It was the moment I screamed to myself wrapped in five layers of seriously insulated storm proof clothing as the wind hurled horizontal snow into my ski goggles, with only a narrow beam of light from my headtorch striking the frozen tundra below my feet, that I realised our inaugural Best Life Adventure Extreme Dreams Challenge was turning out exactly as I wanted it to be; brutally tough, mentally and physically challenging and a real test for everyone involved.
As I led our team of intrepid adventurers, deep into the winter darkness, further from the relative safety of our isolated overnight hut, I peered back over my shoulder at the line of lights that stretched into the distance, finishing with Riikka's red headtorch that signalled everyone was still pushing on.
It was twelve months before, sat in the heat of a Queensland summer that the concept of our first Extreme Dreams Challenge became a reality. Take an extreme part of the world, create a seemingly impossible physical challenge and find a group of equally crazy people who want to come along for the ride.
My brief was simple. Create an extreme physical adventure that isn't in any tourist brochure and deliver it in the midst of the Arctic winter, ideally under the Northern Lights. I wanted to create something so memorable, it would be etched in people's minds forever.
Snowshoeing can't be that difficult right? Surely, it's just one foot in front of the other for a few hours? If you were part of a bog-standard tourist experience maybe, but this was an Extreme Dreams Challenge, so every element had to be more intense, more testing, more stimulating than anything else out there.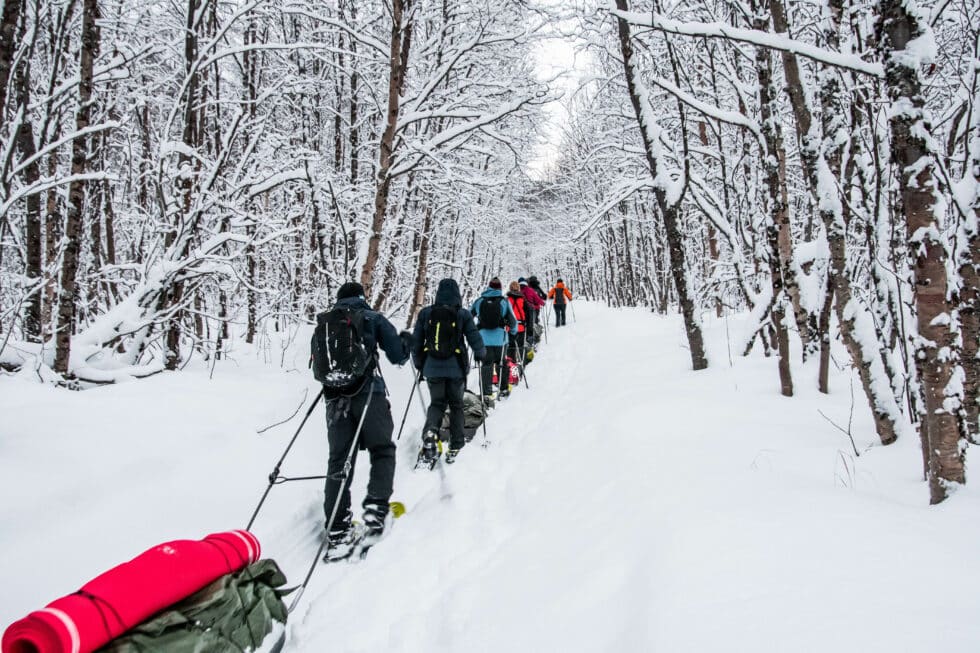 We turned and watched as the coach and trailer pulled out of the snow-covered car park, leaving twelve absolute novices snowshoers and two guides behind. The silence of the Lyngen Alps in the middle of winter was deafening. The air was thick with anticipation as we concentrated hard and learnt new techniques and skills in seconds; tighten this part of the harness, click this buckle in here, turn this wheel to lock, make sure your headtorch is accessible and….we're off.
My goal from the outset had been to follow a section of the Nordkalottalden, (or Arctic Trail) a famous summer walking track that winds 800km along the spine of Norway, finishing at Kilpisjarvi in Finland, our destination at the end of the snowshoe adventure, still three long days away.
15 minutes in, it was clear our progress was a lot slower than expected. OK, none of us had any snowshoe experience, but even Gareth, our Kiwi-Finnish local guide upfront, was having difficulties making headway through the deep snow that had fallen in the previous 24 hours. The headlines I'd read in the local newspaper a day before leaving only added to my in-head drama and the anticipation – 'Four skiers killed in avalanche' – in the next valley across from where we were now.
As our human centipede slowly tracked across the frozen tundra, through picture-perfect pine forests loaded with fluffy white snow, we slowly gained elevation until we eventually broke through the tree line onto a barren, windswept terrain. Winter-time in this part of the world felt even bleaker with only four hours of twilight casting a surreal sunset glow over the surrounding landscape.
After three hours it was time to break, set up a temporary shelter and fuel our fatigued bodies. There were still four hours left before we could stop for the night and settle into our Arctic hut, build a log fire and fall into a comfy bed. These magical visions of a place-yet-discovered became our driving force to get through the final kilometres.
To maintain the group's energy level, we rotated the lead every fifteen minutes. Your reserves are drained pretty quickly when you're hauling a 40kg puk (sled) through a metre of fresh powder. Exhaustion aside, it's a pretty insane feeling cutting a path through virgin snow for you and your adventurers, with only the throw from your headtorch to guide the way as you seek out the next tell-tale reflector that marks the snowmobile path.
The last 500m to the hut were brutal. I'd been out front for the last hour, my requests for someone else to take over the lead had fallen on deaf ears. We were all dead-beat. Eight hours of dragging our gear up 500m of elevation had taken much longer than we'd hoped, the intensity of the Norwegian winter had ground us all down. It was simply one foot in front of the other until we finally arrived at the icy expanse between the old and new Gappahytta buildings. We'd made it.
45 minutes later we'd unpacked our puks and stored them under the huts with our snowshoes, safe from any bad weather that might blow up in the night. There's no instantaneous heat in a building that's laid uninhabited for nearly two months. Surrounded by snow and ice in temperatures that range from a balmy -10c down to -50c  the core of these wooden sheds takes at least an hour to reach normal room temperature. It then stays there for maybe 15 minutes, before becoming so bloody hot you need to open the windows just to maintain a habitable environment.
As uncomfortable as that first hour may be, the reward of arriving at the huts is incredible. They're fully stocked with crockery and cutlery, have four gas burners and a store of birch wood for the log burner that could keep you warm until spring arrives.  They even have foam padded toilet seats to take away that uncomfortable moment when you'd normally lower your ass onto a frozen plastic rim – genius. They are the most comprehensively equipped overnight wilderness huts I've ever been to.
With dinner resting firmly in our bellies, the conversation turned to reliving the collective adventure of the last few hours; the battles of endurance and tales of personal victory. This Extreme Dreams Challenge was proving to be as tough as it is rewarding. Some decide to turn in for the night, others still buzzing with adrenaline prefer to chew the fat, share a beer and sample the local vodka. A shared sense of comradery is building and it's only the first night.
Those who venture outside to take in their new polar surroundings are rewarded with the spectacle we'd all been waiting for – a magnificent display from the Aurora Borealis as it flashes and spears across the star-filled sky. Imagine the fingers of magical sprites tickling the stratosphere with sweeping electrical pulses.
The hut fell silent once the door was closed for the final time that night. Our team of Best Life adventurers had entered a world of rest and recovery.  They'd need every ounce of strength for Day Two as a winter storm barrelled towards our lonely hut.
When we came to the next morning, a howling wind rattled the windows of the hut and flung spindrift high into the Arctic sky. The smell of fresh porridge and the whistle of the kettle stimulated our senses, Gareth (our local guide and voice of reason) and I poured over a map of the area. We'd three choices; sit out the storm until the next day, turn and make a return run to our insertion point rendering this part of the expedition incomplete, or head towards our next overnight hut, Goldahytta, 12km east towards the borders of Norway, Sweden and Finland. After a long discussion around balancing adventure and safety, we elected for the final option – to move onwards into the windswept twilight.
With our team geared up and ready to roll, we started our slow, metronomic progress across the frozen landscape. The wind gusted to 60kmh and snow flew horizontally in front of our goggles, any exposed area of flesh was numb within seconds. This was not a place to hang around. Physical movement was a fine balancing act between moving fast enough to keep your core warm, but not so fast as to break into a sweat. You don't want to get wet when the windchill can kill.
I remember talking to myself continually over those first few minutes questioning the decision we'd made, but as our team cleared one rise and then the next, crossed frozen streams and climbed out of the valleys, my confidence in the people around me and the choice we'd made became fully justified. We were becoming hardened Arctic explorers, ready to push ourselves, take on the challenge and the whatever Mother Nature could throw at us.
Midday arrived and with it, the most spectacular twilight basked the surrounding landscape in hues of pink, orange and red. There were still two weeks to go until the sun would finally break the horizon after three months absence, but it felt like it was just there waiting to pop up and warm our souls with its essential heat.
The next two days passed without incident. Our plans and itinerary were spot on – days spent moving from hut to hut, stopping to watch native moose and reindeer eke out an existence in this barren land, nights spent in the company of truly great people. We trekked across the most stunning Arctic tundra and finally arrived at the nexus point of Norway, Sweden and Finland – a large yellow stone cairn in the middle of a frozen lake – and duly celebrated the halfway point of our adventure. My final memories of the snowshoeing were powering towards the twinkling lights of Kilpisjärvi for three hours, across the vast frozen lake towards the warmth and comfort of our overnight villa, sauna and frigid ice-lake bath. It was brutal but incredibly beautiful.
A barren frozen car park on the highway connecting Norway to Finland was the start point for the dogsled adventure. 70 barking furry engines were clipped into their harnesses, each raring to go on an unconventional journey towards the coast. If you've looked into a dogsled trip before you know they last for roughly an hour and cover a couple of km along graded snow-covered paths. They're about as challenging as riding a bike…with training wheels on…as a pro-cyclist.
Remember our Extreme Dreams expeditions won't be found in any tourist brochure – they push the boundaries of what adventurous people, call challenging. They are enjoyably hardcore.
We'd designed a route to take us on a full 42km dogsled marathon, straight off the bat. No training, no graded track, but instead beat your path through the deep winter snow crossing two decent sized mountain ranges. A journey that would excite, exhaust and energise us at the same time.
There are two instructions for dogsledding – foot hard down on the anchor to brake, and never ever let go. They sound simple enough but when you're racing through frozen pine forests with water streaming from your eyes as you whoop with delight it's difficult to remember even the basics!
The dogs were prepped and ready to race, our handlers shouted something motivating in Finnish to them, untied our security lines and we were off. The first kilometre was an uncomfortable experience as I struggled to work out my foot placing on the tiny rubberised steps, millimetres above the ice that rushed below. Drop your guard, your phone or a camera and it'd be left far behind with no chance of recovery – this was about staying safe and holding on.
With an unexpected metre and a half of snowfall in the 48 hours leading up to our mission, a lead snowmobile cut our path through the deep snow. Behind it 16 teams of dogs, adventurers and guides who were excited as we were to be embarking on a very different kind of adventure. These were seasoned Scandinavians who race dogsleds for fun in 24-hour races that cover up to 100kms.
As the truly dark Arctic night fell, our head torches provided the only light. The chain of illuminated dots carved its way up pine-clad hills, across vast snowy-marshmallow-covered mountain tops and down through alpine forests. We briefly stopped for a late lunch of hearty reindeer soup, local sweet biscuits and the best instant Nescafe I've ever tasted.
With 'hours' of sledding experience under our belts, we were now driving the sleds no longer simply hanging on and had learnt to read the track ahead, shift our body weight from side to side, momentarily brake, and tuck in before setting up for the next corner.
This is the ethos of true adventure – find a new challenge, jump in at the deep end and take it on.
After a few hours, twinkling lights in the distance signalled the final few kilometres before this leg of our Extreme Dreams challenge would draw to a close. It felt incredible to be behind such energetic canine powerhouses whose passion was to run, run and run some more.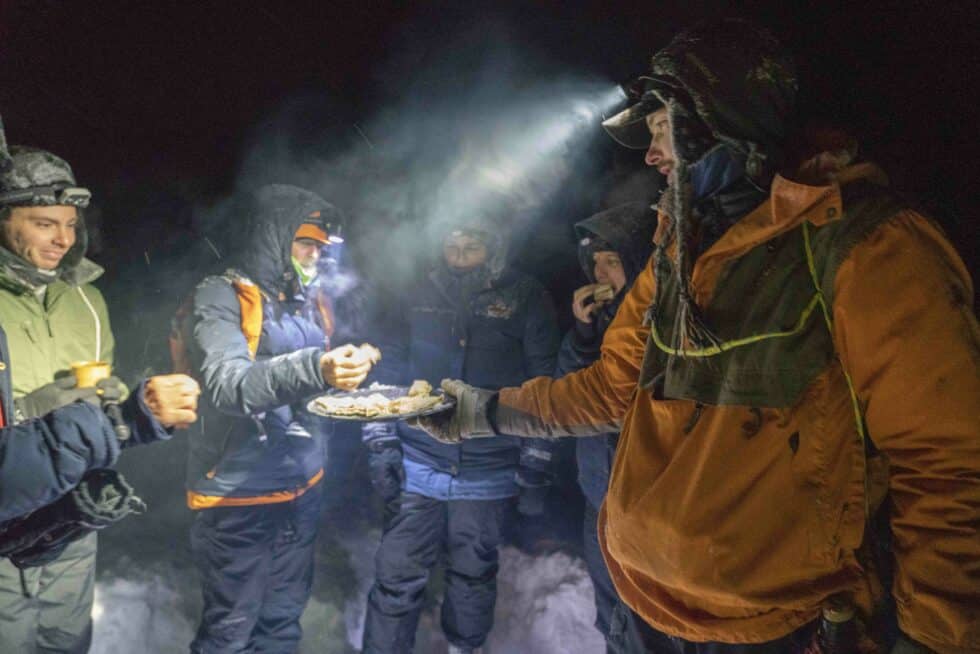 Dogsledding this way isn't for the faint-hearted. If you think you just need to stand tall and be dragged across a frozen landscape, then think again. You need to work and earn your dinner too. Every significant uphill requires a leap from your tiny foot pegs into waist-deep snow to help propel the 100kg sled up the incline, and then a graceful leap back up when you're finally underway again.
Our Best Life Adventures Extreme Dreams Tri Nation Arctic Challenge takes place from 14-21 January 2020 and includes an epic snowshoe challenge along with some crazy off-piste dogsledding, plus we'll be staying in a traditional Sami community, and to wrap up the week, we head onto the Norwegian Fjords in kayaks to paddle alongside Orca and Humpback whales.
Places are extremely limited. To find out more click here.