Location
Moreton Bay, Queensland
When to Go
9-11 JUNE 2023
Fitness Level
Level 2: Moderate
This is one seriously epic Best Life 'Back-Pocket' Adventure in more ways than one – and we can't wait to take you with us.
The stunning beauty and relatively undiscovered wilderness of Moreton Bay and her islands are best explored by water, far from the crowded hot spots.
Our Moreton Bay Wilderness expedition takes you on a three-day kayaking adventure to the most remote parts of the islands to explore hidden channels and sand dunes, watch the mystical marine life up close, and camp under a carpet of stars.
Over the three days, we paddle 50kms across Moreton Bay and up the lee-side of North Stradbroke and Moreton Island which offer generally smooth-water conditions. We end our adventure at Tangalooma before catching the ferry back to the mainland.
This will be a true Best Life Adventure for the mind, body and soul.
Previous kayaking experience isn't necessary. You just need an adventurous mind and a moderate level of upper-body fitness. We'll provide you with full training and safety gear on Day One.
---
MINIMUM NUMBERS – this expedition is subject to a minimum number of paying guests. Once this number is reached the expedition is guaranteed to go ahead, if not, it will be cancelled, and you can transfer the amount paid to an alternate expedition or departure date or receive a refund, minus the booking fee.
REFUNDABLE BOOKINGS
 
We've added Refund Protect, a completely no-risk add-on for ALL of our Best Life Adventures that will refund you 100% of the value of your adventure with us, should you need to cancel for any valid reason right up to the moment you're adventure commences.
If you suddenly get struck down by illness, need to isolate, the government shuts down the border or a plethora of other reasons – you'll get 100% of the value of your adventure back…within 48 hours.
When you book your adventure with us simply add the 'Refundable Booking' option to your expedition, it'll cover your ass if things go pear-shaped in the two months leading up to your trip. To find out all about it visit the Refund Protect website and then get yourself signed up for a magnificent adventure with us. 
Please also check their Terms & Conditions to ensure you're fully aware of what they will and won't cover.
As advice, as ever, is to also take out personal travel insurance within seven days of booking any adventure with us, which will ensure you are covered for the time between booking your adventure with us, and when the refundable booking protection kicks in.
DAY 1
KAYAK FROM MAINLAND AUSTRALIA TO NORTH STRADBROKE ISLAND

Start location: Victoria Point or Cleveland Queensland, Australia

It's time to leave the madness of the mainland behind, and head out into the vastness of Moreton Bay for a few days of digital disconnection and physical adventure.

Our expedition departs from either Victoria Point or Cleveland (dependant on weather conditions) where we issue the kayaks, safety gear, and sumptuous food parcels, before departing in double kayaks for an easy few hours on the water, paddling east towards heritage-listed Peel Island, a former quarantine station for the colony of Brisbane.

We have lunch here before departing across the channel towards our destination for the night, North Stradbroke Island.

Dugongs, turtles, and dolphins frequent the waters and the island itself is known for its abundant bird and animal life largely undisturbed by pollution, development and nosey humans.

Our overnight accommodation is in cabins at Amity Point on North Stradbroke Island.

DAY 2

THE CHANNEL CROSSING – STRADDIE TO MORETON

Start location: North Stradbroke Island, Queensland, Australia

Day Two of our expedition is a big one – the paddle from North Stradbroke and Moreton Island across South Passage. Using the slack tide we carefully navigate our way around the sandbanks and network of channels that have left many an unwary sailor high and dry.

Once we're safely across, our destination for lunch is Kooringal. We paddle north and find a campsite on the beach at the foot of the towering sandhills that look west across to the Glasshouse Mountains and Brisbane.

This is our night of true wilderness underneath a starry summer sky.

Overnight accommodation in tents on Moreton Island.

DAY 3

PADDLE WEST MORETON TO TANGALOOMA

Start location: South West wilderness, Moreton Island Queensland, Australia

After two days at sea, our paddle along the western shore of Moreton Island is our last of true solitude, and our destination for the night is the bustling resort of Tangalooma.

Warm showers, fresh water on tap and a hearty meal are your rewards for completing an adventure that very few people from South East Queensland have even considered.

We catch the ferry back to the mainland where your Best Life Adventure ends.
No tent? No worries. We can organise camping gear hire (tent, sleeping mat and bag) for $200 per person (twin-share).
MORETON BAY WILDERNESS:
$1,500 per person – BYO camping gear (twin-share)
$1,700 per person including camping gear hire (tent, sleeping mat and bag)
(Single Supplement Price $500 paid in addition to above price).
Accommodation – We stay At Amity Point Campground on North Stradbroke Island on the first night and a Queensland Park and Wildlife remote campsite around Big Sandhills for night two.
National Park campsite and entrance fees
All meals, snacks and drinks from lunch 9th of June 2023, until lunch 11th of June, 2023. Due to the nature of the expedition, we eat rehydrated meals….but they are bloody tasty ones, not cheap crap.
Drinking water
All activities – two-person kayaks including all safety gear
Best Life Adventures Lead Guide
Experienced Kayak Guide
Transport to/from the start point at either Victoria Point or Cleveland, Queensland
Alcohol
Travel Insurance: Domestic travel insurance is recommended
Personal clothing (equipment list is provided after registration)
Once you book we'll share our recommended gear list with you.
DEPARTURE / RETURN TIMES – to be confirmed but aim for an 07:00 start on 9 June, and finish around 17:00 on 11 June.
COVID POLICY – Best Life Adventures may postpone or cancel this Event due to Covid-19 travel restrictions being imposed by national, federal, state or local governments which limit travel to the Event and result in the event being postponed or cancelled. A decision on whether the Event will take place will be made prior to the event based on the most up-to-date information available at the time.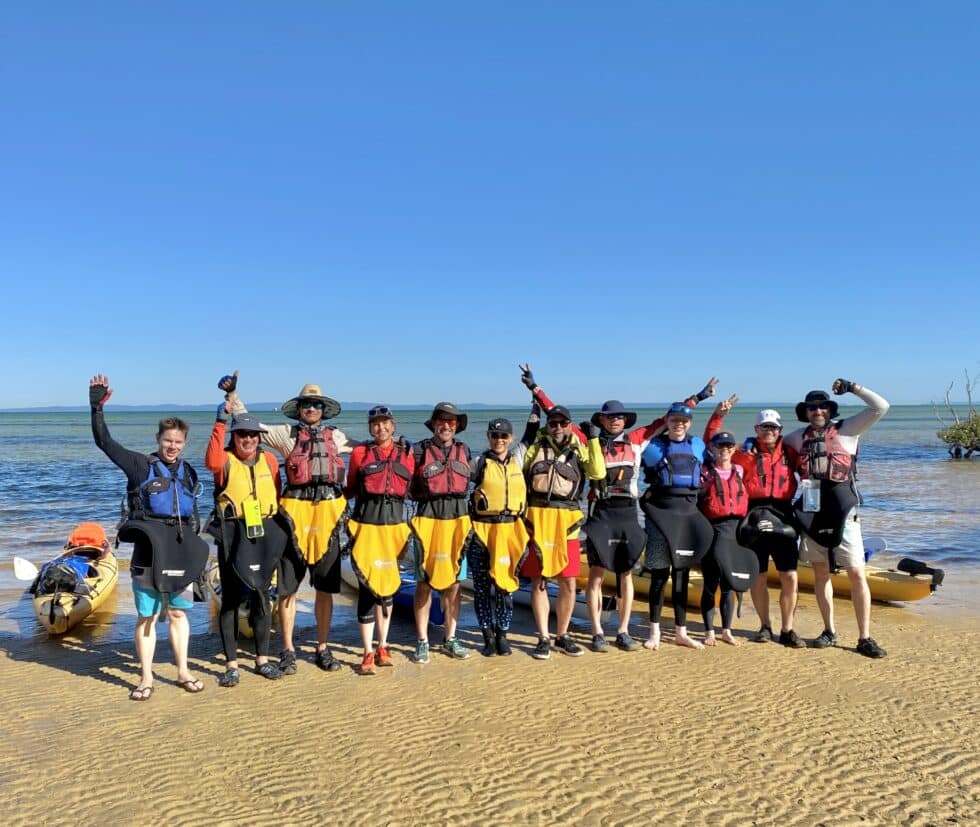 Moreton Bay Wilderness Kayak – Expedition Report 2022
I won't adventure with anyone else now. BLA trips are unreal. I wasn't a paddler before embarking on this adventure, but the team really looked after me and I came away feeling really accomplished and fulfilled. Book me on the next one!
Paddle the Whanganui River
Hike to Everest Base Camp
Extreme Dreams: Torres Strait