EXTREME DREAMS: TRI-NATION ARCTIC CHALLENGE
Location
Arctic Circle. Norway, Finland, Sweden
When to Go
10 - 17 JAN 2023
Fitness Level
Level 4: Highly Active
This is one seriously cool Best Life Adventure – in more ways than one. The magnetic magic of the Northern Lights has long been a drawcard to explore the frozen tundra of the Arctic Circle; hence, our Tri-Nation Arctic Challenge was born.
This Extreme Dreams expedition sees us power our way to the nexus of three snow-covered countries in the depths of winter, with the iconic Aurora Borealis to light our way.
Together, we tackle an endurance journey across the frozen wilderness towing our gear-laden Pukla (sled) between Norway, Sweden and Finland before resting up with the indigenous Sami people to hear stories about survival in the Arctic Circle.
To end our week, we climb aboard dog-sleds for a safari race across mountain ranges, carve through deep powder and race through snow-laden pine forests.
But, that's only half of it. We'll also enjoy a number of other mad experiences, which are best suited to the Arctic (think ice lake immersions and fishing in the snow followed by sauna sessions and ski shots to warm the cockles).
This will be a true challenge of the mind and body for us all. To step away from comfort and take on something new is the epitome of adventure, right? Who knows what we'll find when we get out there.
Physically, this is one of the toughest expeditions you'll ever take on. So, grab your down jacket, find your winter gloves, chuck on your snowshoes (we provide all of these don't worry) and embark on the adventure of a lifetime.
See you in Norway! Book now for 2023.
| | |
| --- | --- |
| DAY 1 | Meet in Tromsø, Norway. Group welcome dinner. |
| DAY 2 | Snowshoe to wilderness hut #1 |
| DAY 3 | Explore the frozen tundra |
| DAY 4 | Snowshoe to wilderness hut #2 |
| DAY 5 | Snowshoe to Sámi Reindeer Ranch |
| DAY 6 | Remote Sámi Adventure Experience |
| DAY 7 | Dogsled Training |
| DAY 8 | Dog Sled Marathon. Farewell dinner in Tromsø |
Approx $6,700AUD per person. Twin-share in Tromsø, group accommodation in the wilderness cabins. (Single Supplement Price AU$750 paid in addition to above price for nights in Tromsø)
All meals, snacks and drinks from the evening of the 10th January 2023 until the morning of the 17th January 2023 (inclusive). Due to the nature of the expedition, we eat rehydrated meals during the snowshoeing activity.
All activities including snowshoeing, dog sleds, whale safari/kayak tour.
Hire of winter clothing; jackets, boots, trousers, hat and mittens, sled, poles, snowshoes and a thermos flask.
Transport between activities
Expedition photos and video
Expedition t-shirt, buff and duffle bag
Flights into and out of Norway
Travel Insurance & Visa (if required)
Personal expenses/souvenirs/shopping
Additional meals in restaurants, cafes etc, private entrance to museums and sights
Additional rental gear
Any cost to repair damages done to your rental equipment apart from basic wear and tear
Alcohol
Flights: Best Life Adventures does NOT include flights into and out of Norway. You will need to book these, details will be provided after you register. We recommend looking at Skyscanner for an idea of times and prices.
Hire of winter clothing including jackets, boots, trousers, hat and mittens, sled, poles, snowshoes and a thermos flask is included. Additional rental gear as required is at your expense.
Dietary Requirements: We can cater for some food allergies or vegetarians if you specify your dietary requirements under the Edit Profile link in the upper right.
Insurance: You MUST have travel insurance. Instructions will be provided after you register.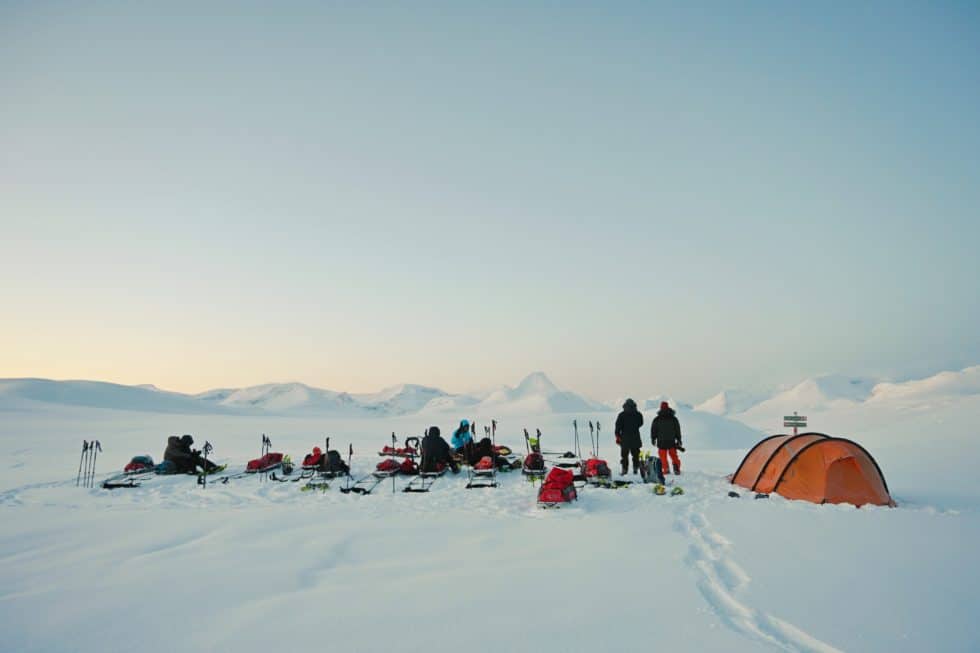 Extreme Dreams: Arctic Tri-Nation Challenge – Photo Blog
The beautifully cold landscapes within the Arctic Circle and the thundering silence you can hear as far as you can see were the highlights of this Best Life Adventure for me.
Extreme Dreams: Torres Strait