Extreme Dreams: Torres Strait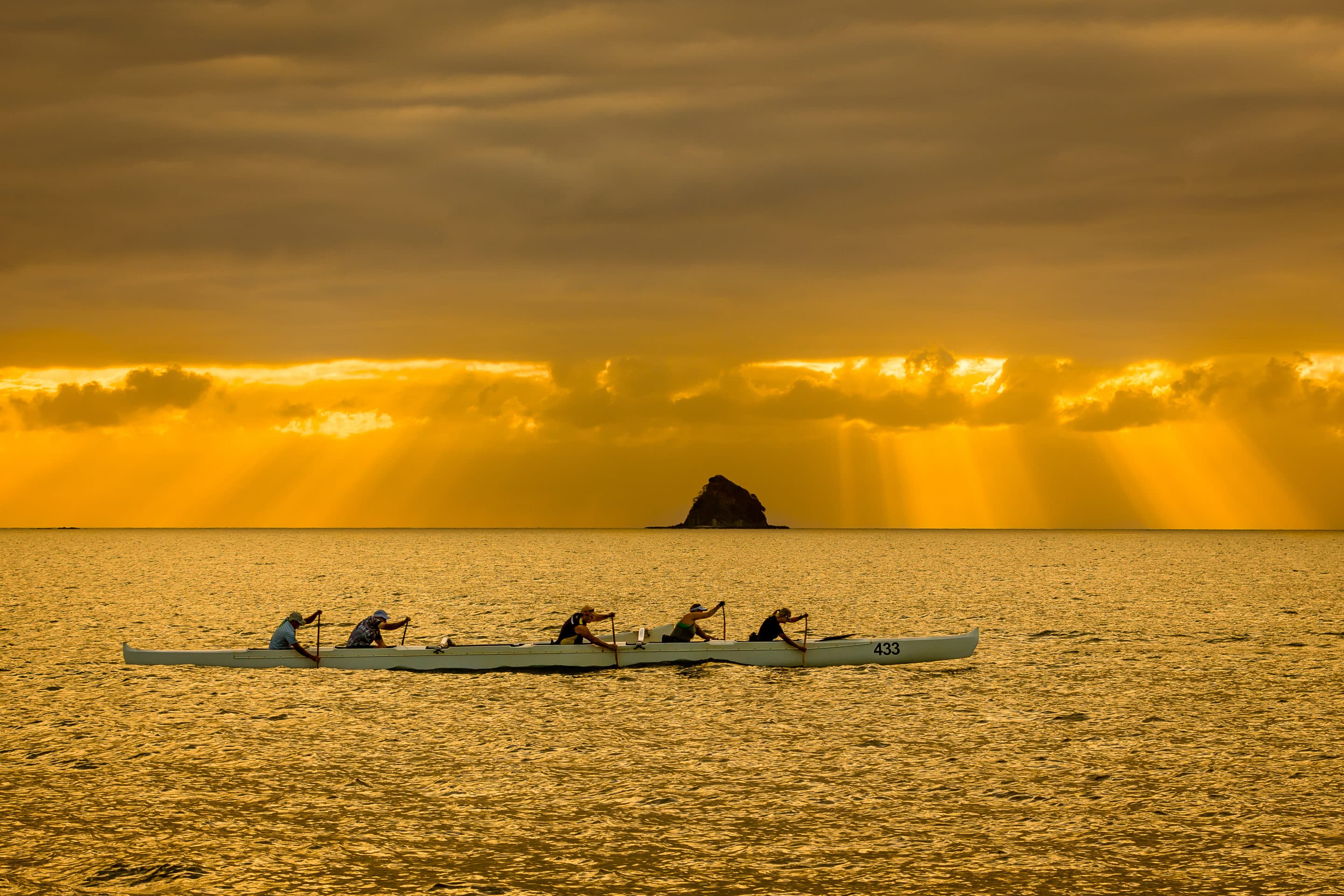 Location
Torres Strait, Queensland
When to Go
25 October - 3 November 2021
Fitness Level
Level 4: Highly Active
Our Extreme Dreams: Torres Strait expedition is a one-of-a-kind, pioneering, raw adventure in untamed sea country. It's not for the feint-hearted and not everything will go to plan. What we can guarantee is a true 'Robinson Crusoe' style adventure.
After flying into Horn Island, we start the expedition at the northernmost point in Australia, the tip of Cape York, and set off in two outrigger canoes to explore the archipelago of Southern Torres Islands, camp on beaches under a tapestry of stars, and supplement our food stores with whatever we can harvest from the ocean en route (crocodile isn't very good to eat don't worry).
For the first half of the expedition, we'll hone the art of paddling outrigger canoes in the comfortable waters around the southern islands, before (weather/ocean/tidal conditions permitting) embarking on a crossing to the Western Torres Strait islands of Moa, and Badu, just 80km from the mainland of Papua New Guinea.
Working closely with the local Torres Strait Islander communities, we'll learn about their deep spiritual and cultural connection to the land and ocean, cook Kup Murri on the beach and witness rarely visited sacred sites, all with the blessing of the Traditional Owners.
My ever-lasting memories during my time as the Caretaker of the Islands of the Great Barrier Reef during the Best Job in the World are from my visit to the Torres Strait islands. The deeply cultural island communities have an appearance more Pacific Islander than Australian Aboriginal, they engage in warm conversation with strangers, have deep pride in their history and for these and a million other reasons, I created the expedition to share the experience with others. I still remember the deep belly laughter, community gatherings, palm leaf weaving under the trees and the best view I've ever experienced from a toilet seat.
–
This expedition has never been undertaken before, so our itinerary may, and probably will change. It's an unscripted adventure, the kind that challenges you and has more unknowns than most people can stomach. It's a different kind of travel, and we think more people should experience it.
No previous experience in outrigger canoes is necessary. We will all start this adventure as novices and end up as salty sea dogs. Best Life Adventures will arrange a couple of taster sessions around SE Queensland in the run-up to the expedition proper. 
We need 10 people to ensure this expedition goes ahead – no more, no less. If you get in too late and miss out, we'll add you to the waitlist but don't expect people to give up their place easily. This will be epic.
| | |
| --- | --- |
| DAY 1 | ARRIVE HORN ISLAND, TORRES STRAIT, QUEENSLAND |
| DAY 2 | EXPEDITION STARTS – TIP OF CAPE YORK TO ROKO ISLAND |
| DAY 3 | ROKO ISLAND TO ZUNA ISLAND |
| DAY 4 | ZUNA ISLAND TO MURALAG ISLAND (PRINCE OF WALES) |
| DAY 5 | TREK TO SACRED SPRINGS SITE |
| DAY 6 | MURALAG TO THURSDAY ISLAND |
| DAY 7 | THURSDAY ISLAND TO MOA ISLAND (WEATHER PERMITTING) |
| DAY 8 | MOA TO BADU ISLAND (WEATHER PERMITTING) |
| DAY 9 | BADU TO MABUIAG ISLAND (WEATHER PERMITTING) |
| DAY 10 | RETURN TO HORN ISLAND. BEST LIFE ADVENTURE ENDS |
| | |
| | *THIS ITINERARY IS SUBJECT TO CHANGE* |
Cost: AU$5200 per person (twin-share). Payment plans are available for this expedition to spread the cost of this trip over a number of months. Please register to see further details or contact us for more information.
Twin-share accommodation in tents throughout the expedition. We will spend the first and last night in hotel accommodation on Horn Island. Please bear in mind that this expedition is very much Robinson Crusoe style, so we'll stay in tents on beaches for the majority of the trip. We are currently arranging hotel accommodation for the first and last nights and will update this page once we are confident the trip will go ahead. 
All activities including outrigger canoe hire, day trek and fishing adventures.
All meals, snacks and soft drinks from the evening of the 25th October 2021 until the morning of the 3rd November. Due to the nature of the expedition, we eat rehydrated meals during the majority of the adventure but it is good quality and varied. Where possible we will supplement our meals with what we can harvest from the ocean along the way.
Transport between activities, including collection and drop-off at Horn Island Airport.
In-survey safety support vessel throughout the expedition
Expedition photos and video
Expedition t-shirt and buff
Flights into and out of Horn Island
Travel Insurance
Personal expenses/souvenirs/shopping
Additional meals in restaurants, cafes etc, private entrance to museums and sights
Additional rental gear
Any cost to repair damages done to your rental equipment apart from basic wear and tear
Alcohol
We'll supply you with all the safety gear you need whilst on the water. If you prefer to bring your own tent, sleeping mat and sleeping bag please do so. It'll make the logistics a lot easier from our end.
We will issue a full equipment list closer to the expedition start date, but you need to prepare your clothing to suit paddling on the water in the tropics i.e. lightweight, sweat-wicking, long-sleeve tops, boardshorts bottoms and water shoes. Rest assured it won't be cold.
Hike to Everest Base Camp
Ride the World's Highest Road (Bicycle)