In July 2022 we finally completed our long-awaited Extreme Dreams: Wildest Africa expedition and boy was it worth the wait. A tough mountain ascent on the equator followed by four days of Big 5 action in the Serengeti.
Far from the madding crowds of Mount Kenya and Kilimanjaro's trekking routes, lie the Rwenzori Mountains in Uganda. The summit of Margherita Peak towers over the surrounding landscape at 5109m making it the third highest mountain in Africa.
It's a behemoth requiring technical rope skills (all learnt on the job), and crampons and ice axes to traverse the two huge glaciers that cap the summit, and that's after days of climbing through untouched rain and bamboo forest. This is true wilderness trekking with barely a soul in sight.
Once we'd got the summit photo, bumped fists, hugged a lot, and cried a little it was straight back down to less dizzying heights for four days walking with, and witnessing the Greatest Migration on Earth – two million wildebeest wandering the Serengeti savannah grasslands, watched (and munched on) by lions, cheetah, leopard and the fattest crocodiles on the planet.
Talk about signaling the return of international travel with a bang! If you're keen to join us on our most adventurous Extreme Dream expedition yet, sign up for the 2023 adventure – you won't regret it.
Here are just some of the photos and memories from this epic journey as told by one of our most loyal Venturers, Cathy U'Ren.
---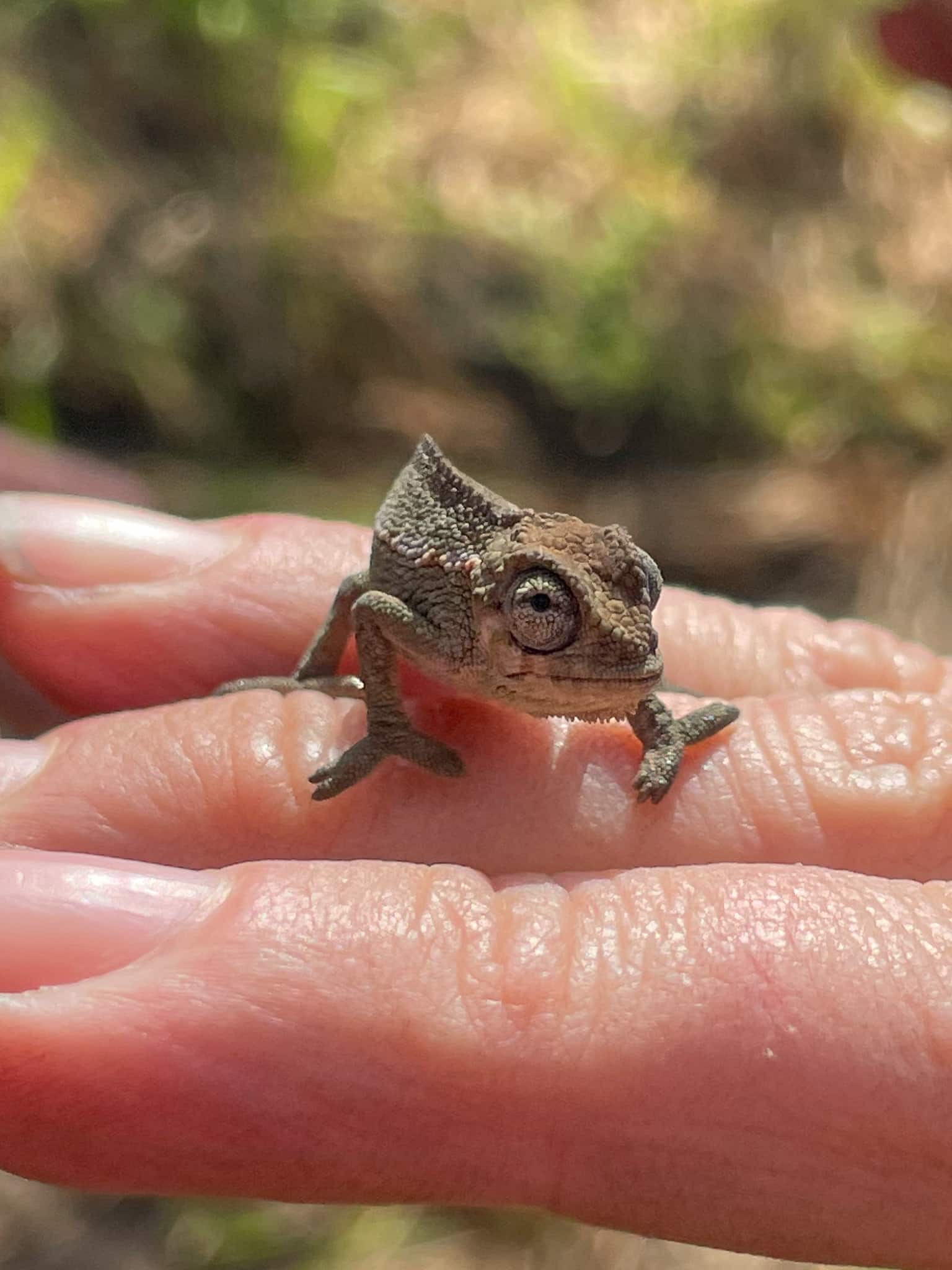 PART ONE – Day 1
Finally…After three long years of waiting, the Best Life Adventures Wildest Africa and the Mountains of the Moon expedition is a GO!
After an early brekkie in Entebbe, Uganda we headed for the airport. We had to go through a Police Checkpoint on the way. Many big guns.
Welcome to Africa!
The hour-long flight to Kasese offered us an aerial view of Uganda and I was stunned by how green this beautiful country is. At the hostel, we had our first briefing with the amazing guides Robert, Ochora, and Amos, who would lead our group of sweet, innocent, slightly nervous, and completely clueless amateur mountaineers through the next 8 days (oh, how naive we were).
A veritable army of porters then swooped in to grab our big bags, sack them with multiple other items and then strap the whole 30kg plus load to their heads before zooming off up the trail ahead of us. Seriously, they are super humans.
I was astounded to see that quite a number of our porters were women and many of them were just tiny little humans. Stronger than I could ever hope to be, in every way. I remain in absolute awe.
Our guides told us stories of the rainforest as we started tackling our first section of "up, up" We learned about Parasol trees, sausage fruit enemas, and the many uses for wild bananas. We saw lizards, a myriad of birds, and a baby chameleon.
As we sat on the trail taking a rest, a drink, and some snacks and starting to get a sense of just how much "up up" there was going to be over the next 6 days, a dude in a head-to-toe hot pink tracksuit jogged down the path from ahead of us and smiled "Hello… Just going for a short run."
Africa baby.
We marveled at the beauty of the jungle, traversed one-person-at-a-time-only bridges and munched on bogonia flowers straight from the trail before arriving at Sine Camp for our first night.
A few of us braved the freezing waterfall for a quick refresh before discovering that every night we would be treated to a freshly cooked three-course meal handmade by our guides. Oh yes.
So this was to be our lives for the next 7 days. Much "up up". Much beauty. Squat toilets. Night time Screaming Hyrax chorus.
Awesome crew.
Life is good.
Cards, laughs, chats, and bed.
Distance covered 6.38km
Avg speed 1.3km per hour
5 hours trekking
1015 metres total elevation
Slept in a hut in the African jungle at Sine Camp at 2,596 metres above sea level.
---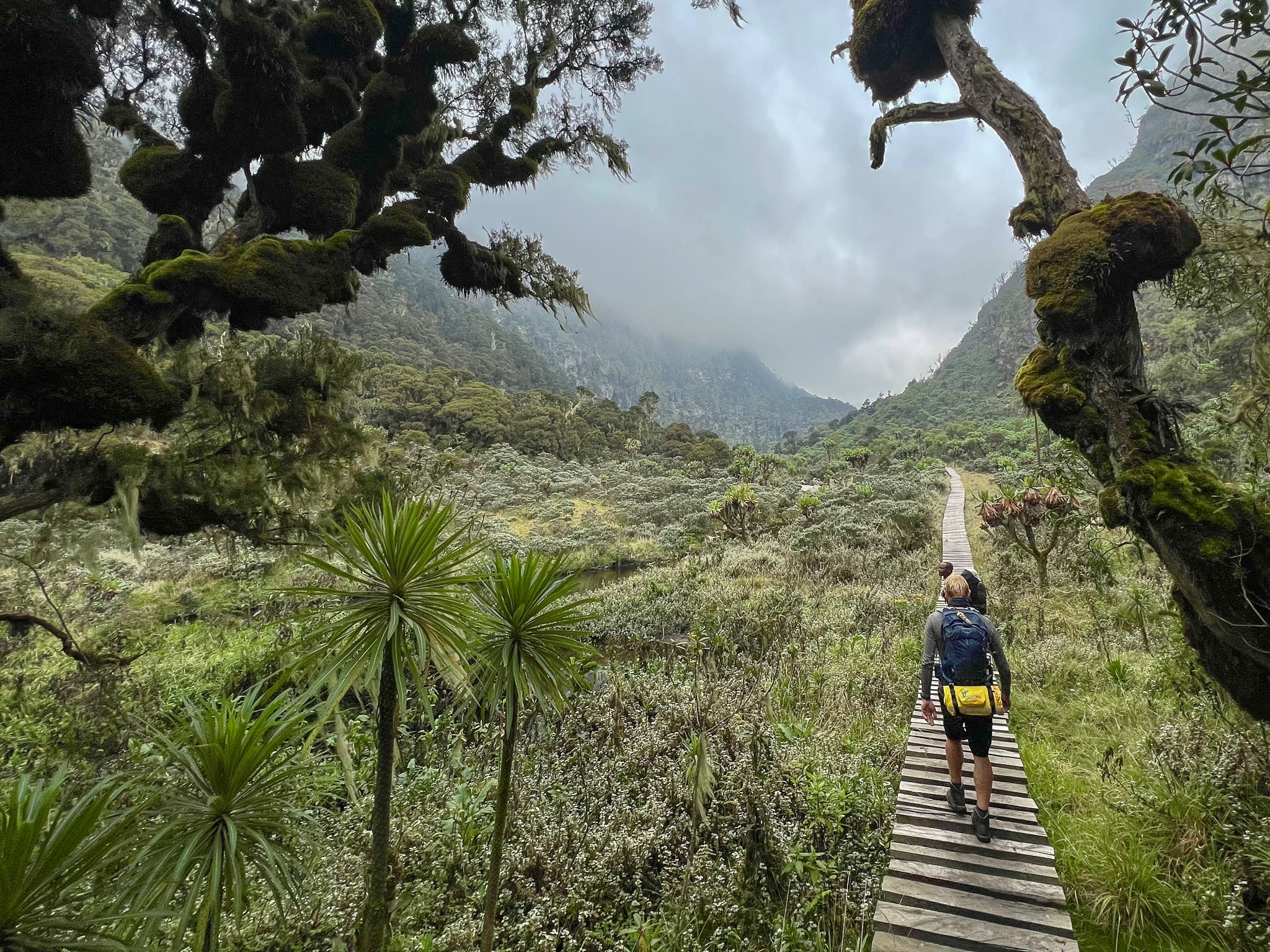 Day 2
In our bright, naive Day 2 states we woke early, wandered around, drank too much coffee, and did some stretches before breakfast.
We would soon burn every calorie of breakfast as we headed off out of Sine Camp in a vertical fashion.
Up we went. And up.
And up.
The track got steeper and muddier and mossier. And we got colder.
Rickety ladders seemed to be the feature of today's trek. We even moved into a zone of steel ladders!
Remarkably, they were even wobblier than the timber versions.
We found a chimps nest, lots of leopard poo, spotted regal sunbirds, and even duikers! (Little red deer).
The most incredible experience today, however, was the ever-changing scenery and the extraordinarily unique Rwenzori plant life.
From camp, we passed into what I liked to call the "Japanese zone" which is not an official Rwenzori zone designation but the mossy trees with twisted limbs and pine-like needles echoed an oversized Japanese bonsai garden. We then entered the Bamboo Zone where a perky little male Blue Monkey politely told us to keep walking, please. (There may have been some monkey profanity involved).
After a quick break at Kalalama Camp, we headed into the Heather Zone where giant Heather Trees draped in Old Man's Beard loomed over the trail like wisened, robed elders. We stepped gently beneath their silent scrutiny.
The way became ever steeper until we were scrambling on all fours to drag ourselves up the rocky trail.
Suddenly, we came upon a little creek bedecked with green plants, boulders and multi-coloured mosses. It was simply stunning. By silent mutual agreement, we dropped our packs and sat in this little fairy garden to soak it all in.
Following a lovingly packed lunch, as we gathered ourselves to leave Gramps exclaimed "This must be the most beautiful place on earth!"
Ochora replied "Oh? This is just the start …."
He wasn't wrong.
Past the fairyland creek, we came to the Giant Lobelia garden. A board-walked paradise of completely alien plant life. The Giant Lobelias are stunning in all of their stages of life but my favourite of the mountain is the Dendrosenecio. It's a stunner.
After making it to Mutinda camp where we would spend the night, we set off on a bit of a side trek to gain some elevation before coming back down to sleep at camp. (This "climb high sleep low" trick can help prevent altitude sickness). We scrambled pretty much straight up the side of one of the peaks for about 200 metres into the mist.
Just coz, you know, we hadn't had enough exercise yet today.
We climbed to 3,800m before descending back to Mutinda camp at 3,593m for an epic dinner.
Distance covered 7.86km
7 hours 15 minutes trekking
1354 metres total elevation
Slept in a hut in the Rwenzori Mountains at 3,593 metres above sea level.
---
Day 3
A 5 am pee run meant I lucked into a rare moment of clear sky to see a billion stars twinkling over the sleeping Mutinda Camp. Well mostly sleeping. Ben was up stargazing and buzzing on his third coffee.
We had breakfast and prepped ourselves for the day's trek. It was at this point that we learned that we would be trekking the next 7 hours or so in Gumboots. Yep. Wellies. Classic rubber boots like you'd buy in Bunnings. For hours. On rocks and stuff. On the Up Ups and the Down Downs. Awesome.
The why soon became clear as we left Mutinda camp and squelched through bog after bog on our continuing path up the mountain.
Actually, I should clarify. It's the Rwenzoris, so there's really no such thing as just "up". To get to our goal of Mt Stanley we have to traverse the entire mountain range so each day we go up and we go down. Then we go up again. The guides have a language for it which I'll define here:-
"Little Up" = steep and potentially goes on forever.
"Up Up" = steep AF and going to hurt badly. It will likely involve pulling oneself up over boulders and/or rickety ladders.
"Down" = generally able to pass in a mostly vertical walking style.
"Down Down" = on all fours, butt scrambling, serious risk of death.
"Traversing" = "Little Up" + "Down" and repeat.
"Small ups and downs" = nothing but a great big LIE! When the guides say "Small Ups and Downs" they look at each other and giggle. Small ups and downs means Up Up and Down Down for the foreseeable future.
We entered the Alpine Zone today and the plant life became more and more alien as the Lobelias and Senecios dominated the landscape. We saw some absolute giants.
We enjoyed lunch in the sunshine next to what we called the Lobelia nursery. 
We reached Bugata Camp, our home for the night, in the early afternoon so once again decided to head up on a "bonus" walk to gain some elevation before coming back down to sleep. This bonus walk involved dizzying ladders pinned to the cliff faces. Great way to gain altitude quickly! Definitely feeling the height now in the lungs. Lack of oxygen means lactic acid kicks in almost immediately with an upward step. 
At the top of the last giant ladder Ochora told us all a tale of the area as we tried to get our heart rates back in order. In the story he kept using the term "small god". Ben enquired as to why.
Ochora told us that before the missionaries came the Africans had many gods. Gods that lived under the big trees, in the lakes and the rocks, etc. The missionaries taught them about God and Jesus and in Ochora's words they didn't like them having other big gods. So their previous gods became "small gods".
When asked further about religion and the church Ochora expressed some reservations about the need to give the church money.
"I believe God is here," he said as he gestured around the magnificent mountains. "God is not in the church".
There is most certainly something spiritual in these mountains.
Distance covered 7.9km
6 hours 5 minutes trekking (in gumboots)
910 metres total elevation
Slept in a hut in the alpine Bugata Camp at 4.062 metres above sea level.

---
Day 4
Soooo none of us had a great night's sleep. Something to do with the freezing cold, the constant need to pee, and altitude dreams.
But have you ever tried peanut butter on fried sweet potato for breakfast? Highly recommend it.
Another gumboot day! We headed out of Bugata Camp retracing our steps up Giant Ladder World in our squeaky rubber boots. Actually, they're surprisingly fit for purpose. Who knew?
Then along we went, and up and along and up. And a bit more Up Up.
The Senecios were the absolute hero of Day 4. We walked through a valley that felt like an auditorium with a max capacity audience of senecios silently watching us pass. We entered Furry Rock Land and an incredible pass between vertical furry cliffs before finally making it to Bamwanjara Pass at 4,450 metres above sea level. Stunning.
Well, once you manage to catch your breath it's stunning.
Definitely in the clouds now. Every now and then they would part to reveal a tiny glimpse of the enormous peaks looming all around us. Awe-inspiring. And slightly terrifying.
From the pass, we proceeded "Down Down" through the most beautiful rift full of gigantic senecios. It was like another world. Unbelievably gorgeous. The descent was long and rather painful though. Whilst we were ok at the altitude of the pass, the first cracks started to show at the bottom of that descent. Severe headaches. Funny bellies. 
We pushed on across a muddy plain watched by little red duiker in the bushes before we made it to the lunch spot.
Potato salad. Naps. Most of us just sprawled wherever we could and played dead for ten minutes.
Following lunch, we did some "traversing" of boulder land along the edge of three stunning lakes before another big, muddy, rickety ladder descent where we should have been able to see Congo but for the mist. The best part of this descent was the Sunbirds. Unique to the area these tiny birds make gorgeous music to accompany a downhill mud scramble.
Following a little rest at the bottom with the Congo side of Mt Stanley teasing us with tiny glimpses through the clouds, we headed out across what can only be called a Giant Muddy Bog with a few twigs thrown across it to help with traction.
Then Up Up plus more mud to Hunwick's Camp at 3,974m. This is a lovely camp and we all enjoyed a few rounds of cards and a hearty dinner of chicken and rice in the fire-warmed dining hut.
Not long before bed, there was a bit of a commotion in the camp and we learned that our guides were going to have to evacuate one of their colleagues from another trek who had fallen prey to severe altitude sickness. He was in a bad state. They needed to get him down the mountain asap. The only way is to be carried, by bamboo stretcher.
So our guides were preparing to depart to carry a full-sized human being in a bamboo stretcher back to Bugata Camp, over all the ground we had covered in an *entire day* IN THE DARK, and be back to lead us off again in the morning. Woah.
They seemed totally fine with this. Simply incredible humans. Extraordinary effort. And completely within their capability. I stand in awe.
Also, I would like to go back and revise my "fitness level" that I completed on the waiver form please …….. "high"? No. More like "pretty much zero compared to you guys".
Had a truly wonderful sleep as our guides powered through the night on their rescue mission. Popped out for a pee run at about 2 am and the clouds had lifted to reveal the massive peaks surrounding us. The nearly full moon illuminated the utterly spectacular location of Hunwick's camp and I nearly fell from the dizziness of seeing these silent giants looming overhead. To be honest, it was more than a little terrifying.
Not to mention, none of those giants were as high as the one we're planning to summit…Stealthy Margherita Peak was yet to reveal itself to us.
Distance covered 7km
7 hours trekking (in gumboots)
746 metres total elevation

---
Day 5
In order to give our guides a little more time to recover from their overnight rescue mission we pushed our departure back a little and had a luxurious sleep-in till 7 am. 
And what a stunning morning. It was beautiful. There was a crispy frost on the ground, sharp, clear mountain air, and a bright shining sun rising over the mountains right in front of us. 
We lazed around like lizards in the sun. Letting the warmth ease the building headaches and soak through stiff muscles. 
Alas, all good hikes must actually contain some hiking so our sun worship eventually came to an end and we kicked off our shortish day heading out towards Margherita Camp ready to summit the next morning.
It was a relatively short but glorious day. I don't think I've yet mentioned that the Rwenzori mountains are infused with mica. This shining mineral makes every step a sparkling wonder. Even the black mud seems strewn with glitter. 
The last hour was pretty much vertical as we scrambled our way up to Margherita Camp at 4,471 metres. 
It was time to prepare for the summit push. 
Our guides kitted us out in harnesses and helmets. After about a half hour of training on the ropes and ascenders, we were declared good to go.
We were then informed of our 12 midnight breakfast time for a 1 am departure. Needless to say, immediately following dinner we were all off to make the most of our four-hour sleep window before tackling one of the biggest challenges of our lives. 
Distance covered 4.5km
4hr 45m trekking (still in gumboots!)
712 metres total elevation gain
Slept fitfully in a hut at Margherita camp 4,471 metres above sea level.

---
Day 6
Summit Day. 
What to say? Where to begin? I get exhausted just recalling details of this day. It's just so hard to put into words. 
We met at midnight in the dining hut to attempt to push some breakfast into nervous stomachs after about 2 hours sleep. 
We geared up. Helmets and harnesses on. Regular hiking boots today so we could affix crampons. Not expecting a whole lot of mud, just bare rock, and ice between us and the summit. I felt heavy as we left with all the gear attached. Not sure if the headache was from lack of sleep or altitude. Not sure if the sick belly was just nerves….  
Time to do this. Let's go. 
In the pitch black. 
By head torch. 
It was pretty clear from the start that it was going to be tough. The tiniest exertion at this altitude leaves you aching and gasping for breath. So when we arrived at the first fixed ropes, hooked up our harnesses and ascenders, and started literally hauling ourselves up a cliff I knew we were going to have to pace ourselves and dig deep. 
Our first glacier crossing was really something. We affixed crampons and then had to somehow walk *down* a super steep crack in the rocks to reach the ice. One at a time, it was slow going and those of us left waiting for our turn were literally freezing. Descent done, roped up, we marched out onto the ice. 
Now – if you've never walked across a glacier before, the moment you hear it let rip a giant crack right beneath your boots for the first time is enough to get your heart racing.
The glacier snapped, crackled, and popped away as we tried to breathe and march without ripping our own calves to shreds with an errant crampon step.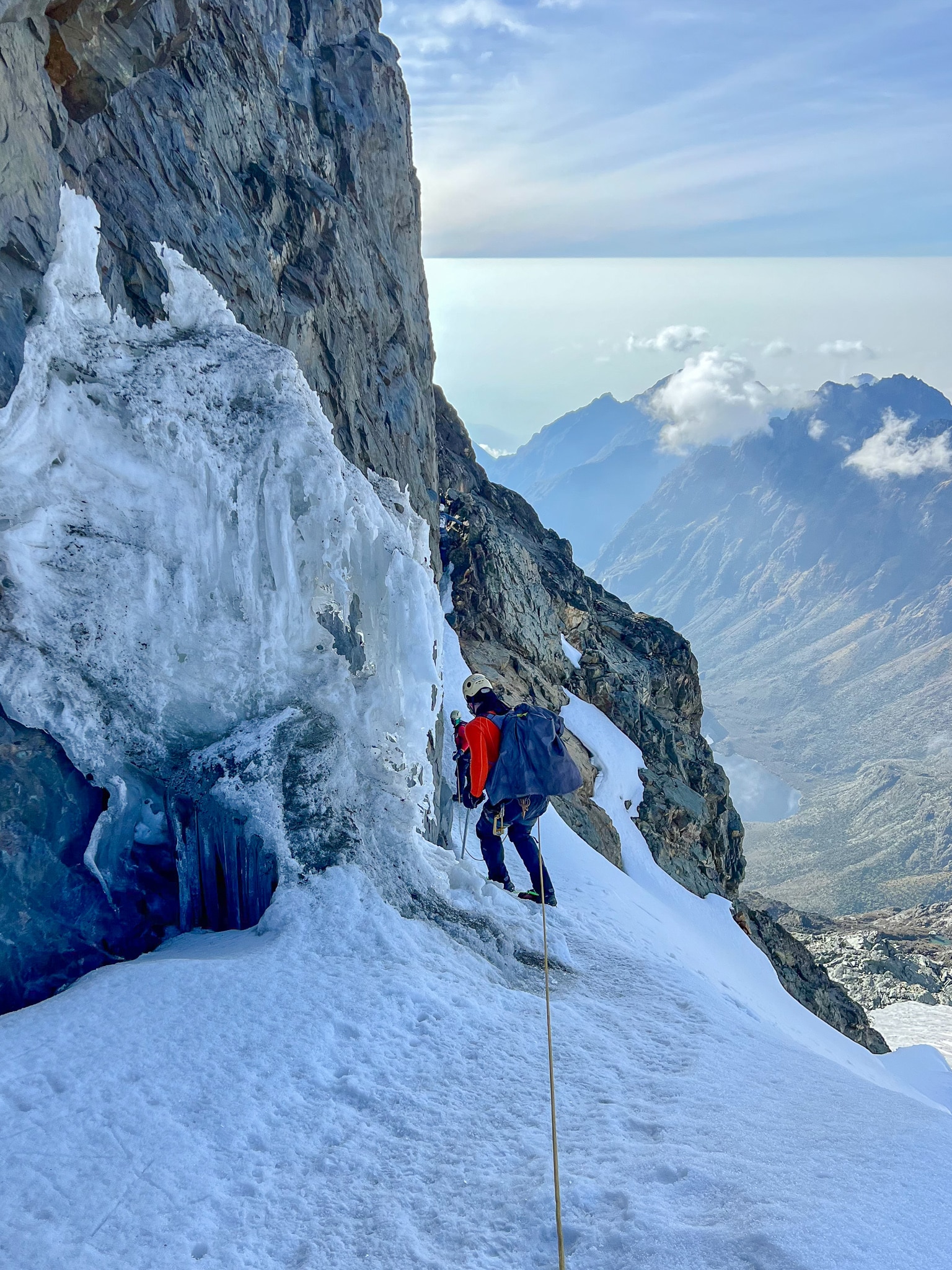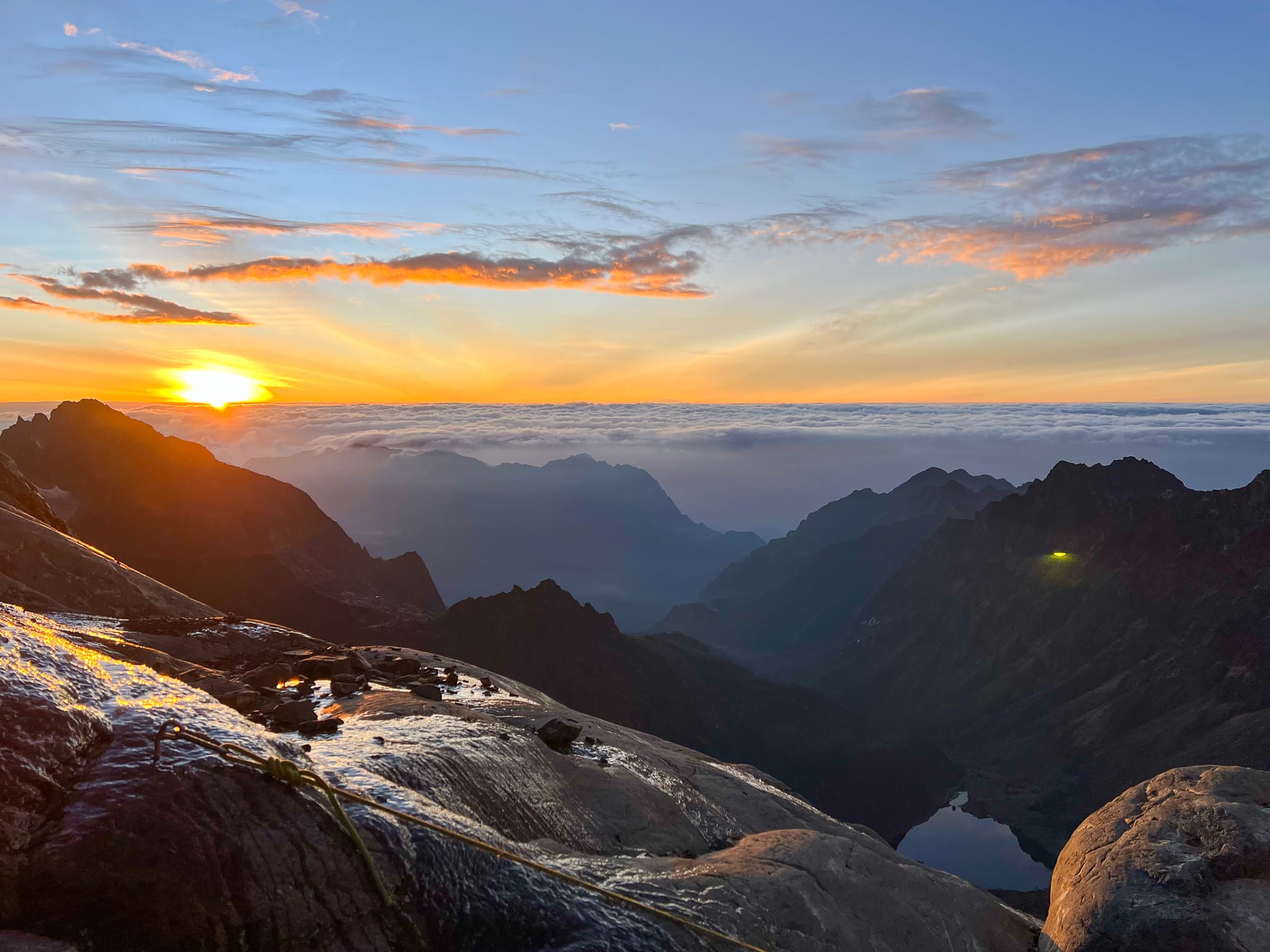 Glacier one done. But seriously, needing to pee in all those layers plus harness, boots and crampons was *not* convenient. (My kingdom to be able to pee like a man!) 
It was back to rock scrambling for a while after that first glacier. Of course, even on the final push to the summit, the Rwenzoris do not allow you to just go "up" – so part of our climb was rappelling a hundred or so meters DOWN a cliff just for fun! 
Actually, it really was fun. But it is quite heartbreaking losing altitude knowing you have to regain it immediately after. 
The sunrise from the top of our next ascender climb was special. We were above the clouds as the sky started to colour in the east. The first warming rays were so welcome but only served to illuminate the massive challenge between us and the summit. Margherita Glacier. 
It was whilst climbing this cracking, groaning beast that I lost my mojo. 
Every step was just HARD. I was leading our roped-up group and I could only manage about twenty steps before having to stop and rest. Leaning on the walking pole like it was the only thing holding me upright (it was). 
After what seemed hours climbing that glacier (I think it was about an hour and a half all up) we tackled what I think was one of the hardest climbs. Fixed rope, no ascender, just a body weight haul on a safety line up a crack in the stone mountain with crampons on (just imagine the sound. Worse than nails on a chalkboard!). The effort required to haul myself up that rope in a single step seemed monumental. Repeating it required a level of grit I don't think I've accessed before. Just one more step. Just one more step. Just one more step. 
By the time we started the final rock climb (sans fixed ropes) to reach the summit, I had absolutely nothing left but grit and determination. "About 25 minutes," said Amos. One foot in front of the other. (I should say "above" the other). Breathe. One step. Breathe. And finally – we were there. 
The summit. 
We made it. 
Margherita Peak. 
5,109 metres above sea level. 
I sat down and didn't really know what to do with myself. A few giggles bubbled out. We all kind of stared at each other and just tried to breathe. 
Then hysteria set in. We were here. We'd done it. There were a few tears with the crew, many of whom had very personal reasons to feel enormous pride at their achievement. I cried with each of them. The release was palpable. We hugged and laughed. We walked a few extra steps to stand in Congo. Took some photos. 
And then….. 
Well…..
We went back down. 
The problem with climbing mountains is that no one really talks about the going back down part. The goal is reached. The euphoria has been had. The physical limits have been pushed to the very edge. 
And then you have to come back down. 
That glacier we climbed had to be descended (almost as punishing as climbing it tbh). That cliff we rappelled down had to be climbed. Every painful step up (or down coz, you know, Rwenzoris) had to be reversed. And we'd already emptied the tank. 
The return journey was haaaarrd. When camp came into view it was the second most happy I've ever been to see a hut in my life. (The first was during the Best Life Adventures Tri Nations Arctic Challenge Day 1 but that's another story you can read here!)
When you look at the stats you'll see that it took us nearly 14 hours to travel only 7kms and despite the peak being only 500 metres higher than our camp, we climbed a total of 1,268 metres in that time. 
In a harness. 
Mostly in the dark. 
On two hours' sleep. 
When we made it back to camp we took a nap. 
A well-earned nap. 
Later, the guides had a laugh when they told us that they intentionally don't mention the extent of the ropes or the ascenders or the rappelling or the difficulty, because "then you might decide not to come!"  Thanks, guys. 
We were actually scheduled to continue on all the way back to Hunwick's camp that afternoon but no. Just. No. 
We'll deal with the fallout from that tomorrow ….. For now, we sleep the sleep of complete physical exhaustion.
Deep and satisfied. 
Distance travelled 7.3km
13.75 hours trekking, climbing, rappelling, bouldering, cramponing!
1,268 metres total elevation
In a harness.
So incredibly proud of this crew. What an achievement!

---
Day 7
Today we awoke following one of the longest and most challenging days of our lives. Rather than laze around soaking it all in we were up early and on the trail to try to recover the 3-4 hours we lost by not returning to Hunwick's Camp the night before. The day was already planned to be a big one and with that extra section added it was looking to be another 14-hour day.
We were expecting to have to finish in the dark if we wanted to make it to Kiharo Camp   
Well, only one way to get there.
I don't have many photos of today because we were rushing and when you're rushing here you have to watch your feet every single step to avoid either breaking an ankle or falling off the mountain! 
In fact, I have never hiked for such an extended period of time whilst having to carefully watch every step. I found myself with a sore neck by day 2 from looking down. From mud to boulders to rickety ladders, this entire hike has been an exercise in watching one's step. I've taken the opportunity to include some photos of the terrain.
The footing is so treacherous generally that all the huts have instructions including photos for how to splint a broken leg for transport back to medical care, potentially days away by bamboo stretcher.
Just attempting to reach for a tissue and carry on walking at the same time is taking your life in your hands. You most certainly cannot blow your nose on the move and expect to survive intact. 
The Rwenzori's demand constant attention. 
So we hooked it down to Hunwick's Camp in quick time and pushed straight on toward Bugata Camp. Getting there required retracing our steps through Bamwanjara Pass. At 4,450 metres. 
Remember that beautiful Senecio strewn Down Down that nearly brought us undone on Day 4? Yes well, we had to go back UP it.
As I focused on each tiny step in front of the other up that pass I thought of our guide Amos who had walked this path with us on Day 4, then carried a man back the entire way that night, then returned again pushing to catch up with us all the way through to Margherita Camp the following day, then summited with us yesterday and was now doing it again, with us, today.
To be fair, he did look slightly sleepy.
We limped into Bugata Camp with shaking legs around 4pm determined to push on the further 4-5 hours to Kiharo. Our incredible team prepared us soup to nourish our weary bodies and soothe our souls. 
Far out soup tastes good in the mountains. 
We smashed the soup, rested for 10 minutes, and said a quick hello to some fellow trekkers on their way up (this was one of only 3 other groups we saw the entire time. It was like the mountains were ours alone) and pushed on. 
The track to Kiharo was new territory for us and involved a boulder descent that there is absolutely no way on earth the Australian government would permit trekkers to attempt. Wow. I was trying to recall those instructions for the broken bone splint the whole way down.
The major blessing was the return of oxygen to the air as we descended. You could almost feel each breath getting easier as made our way down. Lungs expanding. Bliss. 
Some of our crew were in struggle town physically due to illness, the rest of us just due to exhaustion but we made Kiharo in a super fast 3 hours just as it was getting dark. We all absolutely reveled in our achievement of having backed up a summit day with a 12-hour fast march to reach our destination. 
In gumboots.
Kiharo is a lovely camp and we chatted late into the night with our guides in the dining hut. 
We learned that Ochora and Amos had done our full 8-day trek from gate to summit and return in 14 hours. FOURTEEN HOURS!?
Extraordinary humans. 
Meanwhile, us mere mortals still had one big day to go tomorrow to make it back to the park gate and sleep was most certainly required.
Distance covered 18.2km
10hr 43m trekking
1,000m total altitude gain (on a DESCENT!)
Slept our last night in the Rwenzori Mountains in a hut at Kiharo Camp at 3,438 metres above sea level.

---
Day 8
The final episode of Best Life Adventures Extreme Dreams Wildest Africa and the Mountains of the Moon "extreme" section before we all head off for the "dreams" part on Safari with a bit of luxury in the Serengeti.
Our final day in the Rwenzoris. And what a day. The sun rose on a perfectly clear morning as we set off on our final descent through a stunning valley of tropical rainforest and multiple gorgeous waterfalls. 
The sun had the mica in max sparkle mode and it really was the perfect way to end a trek through the Rwenzoris.
After a few hours of working up a sweat, we stopped at one of the waterfalls with a wonderfully inviting pool and decided to get in. Well, most weren't mad enough to get in given the absolutely freezing water but a couple of us nutters went for it anyway.
I had been wondering why all the porters dropped their packs and were waiting by the pools before discovering they always wait at this point to see how many of the mad trekkers get in the water! I asked our guides if they ever did. "Never" was the solid reply. "It comes from the glacier". 
The instant brain freeze confirmed the sensibleness of their position.
Still, it felt amazing. 
After more beauty and more rickety ladders and more Up Ups and Down Downs, we came to the lunch spot and what absolutely had to be a highlight of the day for all of us – watching the porters carry one of our crew down the mountain.
Ok, so being so ill as to require carrying down the mountain probably wasn't a highlight for this particular crew member but the way they did it was incredible! The porters strapped a long piece of cloth around the butt of our crew member and then around their own forehead and boom! They were off and running! They saw it as a bit of a competition to see who could carry a human the longest and fastest, whooping and carrying on all the way down the mountain! Certainly an experience to remember. 
Needless to say, they made it to the bottom of the mountain a *lot* quicker than the rest of us! 
I must admit, the last hour or so of this last day was pretty much torture. After 7 hours of steep descent, my knees chose to make their extreme displeasure known and I found myself hobbling most of the way. By the park gate, my knees were swollen angry red lumps and no amount of leaning on the walking poles would placate them. 
Once we got to the park gate we found we would need to walk another half hour or so and after a minor sit down protest in complete disgust (and serious contemplation of an all-out toddler tantrum) we picked up our packs once again and proceeded (up up – wouldn't you know it? At least it wasn't down!) through the little village to the van. 
It was actually a delightful walk past little huts with "small gardens" that are used to grow the family's food and a small cash crop of coffee beans. The kids were an absolute delight. Always so happy to wave and share the tiny pieces of each other's languages that we knew. 
Several pigs and about a hundred goats later we made it to the van, stuffed about 16 too many people into it (in front of an absolutely enthralled live audience), and headed back to the trekkers hostel to receive our completion certificates and say goodbye to our epic group of porters and guides for the last time. 
Distance travelled 16.83 km
7hrs 30m
540m total elevation (despite descending 2,300m!! ) 
For those paying close attention, we started at roughly 1,500m above sea level and climbed to a peak of 5,100m – yet our total elevation for the full trek was 7,545 metres.
I will forever be in awe of the Rwenzoris and its people. 
The amount of times I've crested a rise or turned a corner and just stopped dead with a "WOW" (plus or minus a few profanities) is outnumbered only by the times I've been rendered completely speechless. 
Struck dumb by the majesty of these enormous mountains on the equator. 
Humbled by the strength, fitness, fortitude, and kindness of their people. 
I'm so very grateful to have had the opportunity to know them.

What an adventure!
To do it justice, I've shared the photos of our days walking, exploring, and camping in the Serengeti in another post which you can read Part 2 here.
Cathy U'Ren
---
If you've got this far, we know you're ready to sign up for your own EXTREME DREAMS expedition when we return to Africa in 2023. Make it happen here.